One of the things that makes us girls unhappy is never finding the clothes we love at affordable prices. It's something we always struggle to find, so to help I have made a guide on how to stay fashionable on a budget. After reading this guide it will be possible after all!
Think Before You Buy
Before you make a purchase think about what you are buying. Do you really need it? You could wait a week before making a purchase and if it's still on your mind then go ahead and buy it, if not then you probably don't need it as much as you originally thought you did. Also it's all too easy to buy an item of clothing just because it's in a sale, so make sure you really like it and ask yourself whether you would consider buying it if it was selling at its full price. It's a good idea not to be cruel to yourself as well. If you know that you can't afford an item don't try it on. It might be fun but you're going to feel even sadder if it suits you perfectly and you just can't afford it.
Click below to read more;
Boohoo.com dress sale now on (22/03/2013)
Don't Pay With Credit Cards
Credit cards might seem to be the easiest thing to use when you're short on money, but the debt you could end up in would be a whole lot more hassle than it's worth. Fashion is great but it's not something you desperately need to survive, although some people might disagree with that!
Buy The Basics
Buy wardrobe staples that will last a few years and will go together with other items. Don't get sucked in to buying fashion just because other people are wearing it. Most fashion fads only stick around for a short while so it's not really worth buying into it unless you really love it. (Look out for a blog post for a guide on wardrobe basics soon.)
Missguided has a huge range of cool items at affordable prices.
Search For Sales
This an obvious tip but just remember that online there are sales on basically all the time, sign up to sites such as The Fashion Pixie and ShopStyle to get the latest discounts delivered straight into your inbox.
Look Around The High-Street
Are you always looking in the same stores when out shopping? Why not check out the smaller independent stores. They'll stock unique items at a fraction of the designer prices and you'll be supporting the small businesses too.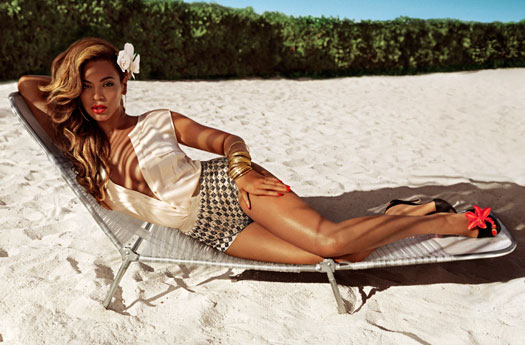 H&M is super affordable and so stylish that even Beyonce will model for the store.
Buy Vintage And Accessorise
Buy gorgeous vintage pieces that will last forever. Some styles never fade so buying vintage and mixing it with newer clothes is a great way of freshening up an outfit. Also why not sew your own embellishments on to tired clothes for a cheap and cheerful fix. Changing the buttons can instantly change the look of a cardi and if you want a new pair of shorts why not cut up an old pair of trousers.
Beyond Retro is one of the best stores for affordable vintage items
Spoil Yourself Once A Month
After payday why not spoil yourself every now and then. Try not to go overboard but if you are really in love with an item, wait for a while before you go ahead and purchase it. That way you'll have some time to save up and there's a chance that the price may have been reduced if you are lucky.
Compare Items
Seen an item you love but can't afford? Head to sites such as Style Compare and ShopStyle to compare different items. Just select your favourite styles and you'll be directed to hundreds of fashionable alternatives at affordable prices.
Just a few of the discounts available at UNiDAYS.
Take Advantage Of Your Student Card
A huge amount of stores now allow students to have a discount on their items with a valid College/Uni card or NUS card. The percentage you can get off the full selling price varies within each store but it usually starts at 10% off. Also if you are shopping online and don't have your card on you, many sites now except the excellent UNiDAYS codes. Head to the site now for instant discounts.
Hope this helps!
Jasmine,
xx